A few people who inspire me: Eric Labacz, Maya K. van Rossum,Tom Bilyeu, Leila Janah, Tami Simon
Eric Labacz: Conceptual Designer and Illustrator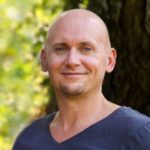 What Eric loves about his work is the opportunity to tell stories through design.
When asked to design a book cover or graphic, he starts by listening. His first conversation with you will be about your book's purpose, its title, genre, the audience, and your approach to marketing.
Once the basics are covered, he'll seek to understand the book on a personal level by asking you several questions: What does the book mean to you? Why were you inspired to write it? What do you want to communicate most of all to their readers?
"These and more are the insights that are going to help me to identify a feeling for the cover," Eric says.
After establishing a strong feel for the project, he begins the process of looking for images, fonts, textures, and effects, and then begins working on layouts and concepts. The end result is a book cover that expresses your intention and speaks to your audience.
Eric's approach to the design process includes a knowledge of how we process and store images we perceive.
Words and Images
"We are constantly learning and picking up information, and our brains do that on a very large scale through seeing the world around us," he says. "Depending on our age, our brains have had years to compile a detailed, multi-dimensional library of visuals, colors and symbols, and to define their meanings and create emotional and intellectual associations related to them.
"Words may introduce us to new worlds and stories, but those worlds are founded on our collected visual experiences," he says. "Somewhere out there exists a symbolic representation of these worlds and information, and it's my job to venture out into archetypal realms, find it, and bring it back into ours."
Experience
A graduate of Tyler School of Art at Temple University, Eric held creative positions at design and communication companies in New Jersey and Pennsylvania before founding Eric Labacz Design in 2001 in Newtown, Pennsylvania.
In addition to book covers, Eric works with businesses and organizations on a variety of design projects including brochures, logos, websites, packaging, mailers, and more. He has worked with pharmaceutical, food, branding, toy, and entertainment industries.
Creative Process
When not engaged in a design project, Eric pursues his love of music, playing either guitar or Native American flute.
He compares the creative process to the spirit journeys of Native American shamans or to the quests of ancient Greek adventurers." I grew up reading books by Edith Hamilton on Greek mythology and loved to look at the pictures that accompanied these stories. They always served to make the stories more real for me," he says, adding that creating pictures for his clients has the effect of making their stories appear more real to the readers. "It's the favorite part of what I do," he says.
Visit Eric's website: Eric Labacz Design.
---
Maya K. van Rossum: Delaware Riverkeeper
Maya K. van Rossum has a dream: An environmental amendment to the U.S. constitution recognizing that all citizens have an inalienable right to clean air and clean water.
The U.S. Declaration of Independence describes the pursuit of happiness as an unalienable right, Maya reminds us. "But if we are sick because we don't have clean air to breathe and clean water to drink, how can we be happy?" she asks.
Meeting the Challenge
As the Delaware River Keeper, lawyer, and author of "The Green Amendment," Maya understands the challenges of securing a constitutional amendment. In 2013, the Network's legal team successfully showed the Pennsylvania Supreme Court that its state constitutional amendment protected people's rights to a healthy environment and made clear the government's obligation to protect the state's natural resources.
Because of the Network's efforts, the Supreme Court recognized that the amendment put the right to a healthy environment on par with the right to free speech and freedom of religion.
For more than 20 years, Maya and the Delaware Riverkeeper Network have fought for and achieved success in several areas including river monitoring, habitat restoration, advocacy and litigation, as well as citizen awareness programs leading to action.
The group's website details 34 advocacy success stories including cases against pipelines, hazardous dumping, lead contamination, fish habitat destruction, and more. Its litigation success stories include 37 cases.
Home in the Watershed
Maya was born in India, moved with her family to the U.S. before she was two and grew up in the Delaware River watershed in the suburbs of Philadelphia. Today she lives in the watershed with her husband and their children.
She joined the Delaware Riverkeeper Network in 1994 as the executive director, and she is a licensed attorney in three states: Pennsylvania, New Jersey, and the District of Columbia. She has served as an adjunct professor and director of the Environmental Law Clinic at Temple's Beasley School of Law, which she founded.
Learn More
Get more information on Maya's work, check out upcoming events, and learn how you can help protect and restore the Delaware River. Visit the Delaware Riverkeeper Network.
Additional resources
– For the Generations: A mission for all generations: To pursue and secure constitutional environmental rights in states across the nation.
– "The Green Amendment": Provides information about her book, plus a list of resources and events. All proceeds from the book benefit the Delaware Riverkeeper Network.
– U.S. 1 story: Make Freedom to Breathe a Constitutional Right
---
Tom Bilyeu: Making an Impact
"Our mission is to free people from The Matrix. Said another way, we want to end the poverty of poor mindset," says Tom Bilyeu, co-founder of the media company Impact Theory.
In addition to working with his staff, Tom hosts podcasts and writes blog posts about companies and individuals working to solve real life issues.
He often begins his podcasts with this: " You are here because you believe that human potential is nearly limitless, but having potential is not the same as actually doing something with it. So, our goal …. is to introduce you to the people and ideas that will help you actually execute on your dreams."
Do it now
Tom urges us to get in touch with what gives us true joy and then to do whatever work is required to achieve our goals. He calls effort the "force multiplier." Once you realize what you need to do, don't wait to feel motivated, do in now.
A few guests on Tom's podcast include Simon Sinek, Seth Godin, Rushion McDonald, and Ray Kurzweil.
To learn more about how Tom helps people be truly happy and make their business thrive, visit his website: ImpactTheory.com where you can listen to his podcasts and download useful resources for free.
And more …. In addition to heading Impact Theory, Tom is the co-founder of Quest Nutrition, whose mission is to revolutionize food and make clean eating fun.
---
Leila Janah: Turning Dreams Into Reality
Leila Janah's mission is to end poverty, one job at a time. She is social entrepreneur who gives work to low-income people in the U.S. and around the world.
While traveling and speaking, she writes about the rewards and frustrations of being the founder and CEO of three organizations: Samaschool, focusing independent work and an economy in which all workers thrive; LXMI, providing clean, ethically sourced skincare products; and Samasource, focusing on AI, human intelligence and data.
Leila's articles offer practical advice that help us keep our dreams and visions alive through unexpected setbacks and periods of doubt.
In "Growing Your Own Garden: Emotional Resilience for Entrepreneurs," Leila shares tips based on what she does to keep going.
* Read moral philosophy.
* Journey into the wilderness, as the Japanese say, "forest bathing."
* Struggle. Find a challenge that calls you and pursue it.
* Love. Focus on someone or something to shower with love just for the pure beauty of the exercise.
In "Rachel Carson and Accepting, Not Chasing," Leila recognizes Carson for not chasing opportunities that eluded her, but for deciding to accept and optimize what the universe put in her path. Eventually, she inspired people all over the country to find alternatives to spraying toxic chemicals on plants and in homes. Leila also gives examples from the work of Patagonia founder Yvon Chouinard, inventor Sir James Dyson, and author Beatrix Potter)
Other articles by Leila cover the pitfalls and potentials of gig work for Americans; the cost of ignoring your health; solidarity vs. charity, and more.
To learn more about Leila's perspectives, her work, and her book, "Give Work: Reversing Poverty One Job at a Time," visit her website: LeilaJanah.com.
---

Tami Simon: Founder and Publisher of Sounds True: Many Voices, One Journey
Sounds True wants to turn you on to your own deep connection to everything that is and your unique call to make a contribution to the world.You'll find tools designed to help you grow personally and professionally at Sounds True. The company's media include books, audio programs, videos, online courses, and musical releases. As an independent multi-media company, Sounds True's mission is to wake up the world.
Insights at the Edge
In Tami's weekly podcast, you'll learn from thought leaders who explore spirituality, mindfulness, leadership, meditation, health, and more.
Sounds True is an animal friendly company where employees' four-legged friends bring cheer and loving energy to the work environment. The company has been helping people grow and learn since 1985.
"I believe we all have an inner compass that points us where we need to go if we have the courage and self-awareness to follow it." — Tami Simon
Visit Tami's website: Soundstrue.com